Roots Shack | Run The Track
Please note, due to outbreaks of the virus Covid-19 and related restrictions on air traffic, order processing and international shipping at the moment only via Courier (Europe = 14 Euro / USA ASIA AUSTRALIA = 30 Euro). Sorry! 
Bless ya ❤
Roots Shack | Run The Track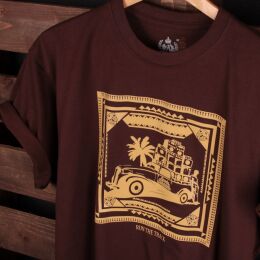 Who remember Charlie Ace's Swing a Ling mobiel Record shack? That inspire us to make some new design!
We use ringspun cotton (the finer fibres are tightly twisted together which results in a stronger, leaner, cable-like yarn).
Stop by the store to check them out first hand.
Roots Shack | Run The Track white tshirt