Make Dub not War
Please note, due to outbreaks of the virus Covid-19 and related restrictions on air traffic, order processing and international shipping at the moment only via Courier (Europe = 14 Euro / USA ASIA AUSTRALIA = 30 Euro). Sorry! 
Bless ya ❤
Make Dub not War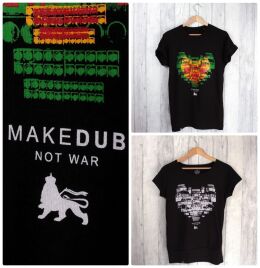 Graphics that tastefully mix sound system culture with love and animals. Can You see the Elephant?
Plus, with a focus on sustainability and keeping things green, you can feel good about wearing one of organic cotton T-shirts. This is clothing with a conscience.
Make Dub not War tshirt for Queen